Chantal Cauley

Chantal Cauley
Information
Full Name
Chantal Emily Cauley
Gender
Female
Birthday
Nov. 12, 2002
Wand



13 3/4 inches
Beech (wood)
Pegasus wing feather (core)

Nicknames



Chan
Tally
Emi
Emily
Filthy halfblood
(By Scorpius)

Loyalties



Hogwarts
Gryffindor
Cauley Family

Occupation


Portrayer
Abigail Breslin
Chantal is a third year, halfblood Gryffindor. She is the older sister of
Jasper Cauley
.
Early Life
Chantal is the oldest child of the Chantal family. She has a younger brother, Jasper Cauley, who was born when she was two. Chantal tries her best to be a good role model. She was born in Liverpool, England. Her mum is a witch, while her dad is not.
Year One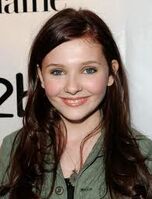 Chantal was single throughout her first year. She was asked out, but she declined. Chantal was popular, having to know the whole first year students. Chantal was frequently called names then and now, and she hates that. Chantal hates Slytherin and savored the fact that she wasn't one.
Year Two
Chantal was still single, due to her own decision. It was mainly because the guys weren't as handsome to her, as to everybody else. Still, she was asked out a lot during that year. She was still called names, but Chantal finished the year with high marks.
Year Three
Chantal is still very popular. She is now able to go to Hogsmeade. Chantal has been very busy this year. Lately, she's been studying for tests and other things. Chantal is also taking Arithmancy and Study of Ancient Runes. Also, she is preparing for the O.W.L. tests, even if she is early.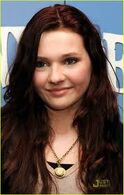 Personality
Chantal is very insecure, and sensitive. She talks all the time, but she also works on her studies. Chantal hates being called names and has a hard time adjusting to all of it. Hoever, Chantal is very sweet and remembers to give people things on their birthdays and Christmas. Chantal is very cheerful and is a bold person.
Relationships
Jasper-Chantal
They are siblings. Chantal is the older sister of Jasper. She dotes on him, and adores him very much. Chantal cares for her brother and hopes that he'll grow up to be nice and strong.
Trivia
Her patronus is a Jaguar and her boggart are spiders.
Her middle name is Emily
Chantal hates being called a 'halfblood' even if she is one
Chantal is fascinated with muggles, as she is partly one.
She gets asked out a lot
Chantal tries to be a good role model to her brother Jasper Cauley