Evie Alden

Evie Alden
Information
Full Name
Evie Evelyn Alden
Gender
Female
Birthday
May 4, 2006
Wand



13 inches
Cypress (wood)
Unicorn tail hair (core)

Nicknames



Ev
Eve
Evelyn
Lynn
Mudblood
(By Scorpius)

Loyalties



Hogwarts
Gryffindor
Alden Family

Occupation


Portrayer
Scarlett Johansson
Evie is a muggle-born Gryffindor. She is a first year and has a crush on half-blood Gryffindor first year,
Jasper Cauley
.
Early Life
Evie was born in Edinburgh, Europe. She is the eldest child of three, her siblings all brothers. Evie is the only witch in her family, which is discouraging. She is the least loved in her intimate family. Evie is actually forgotted by her external family members. She is considered a disgrace to the family.
Year One
Evie is a Gryffindor, first year. She is bullied all the time, due to the fact that she's a muggle-born. Evie hates being called a mudblood. She is also in love with Jasper Cauley, a guy in her year and house. Evie hates Slytherin, for they are the bullies that call her a mudblood.
Personality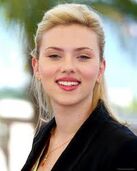 Evie tries to be caring, but she's pretty snarky and sometimes sarcastic. She is humble, but tends to brag without knowing it. Evie is quiet, and she can't stand up for herself. If she does, she ends up embarrassing herself. She clings on to the past a lot, but she never tells anyone about it. Evie is secretive and negative sometimes. Also, she can't be trusted with secrets, because she'll end up blurting them out. She talks too much for her own good and she has compulsion problems, like OCD. It's not a bother to her or anyone else however. Even if Evie is bad at being a good person, she is very sweet.
Relationships
Jasper-Evie
Jasper Cauley is Evie's crush. They are in the same house and occasionally talk to each other. Evie thinks that Jasper likes her too. Jasper and Evie are best friends.
Arielle-Evie
Arielle Bell and Evie are dormroom mates, along with Ella Brown. They are best friends, the trio, and they are often joking around and laughing.
Ella-Evie
Ella and Evie are dormroom mates, along with Arielle. They are best friends and they always joke around and laugh.
Sean-Evie
Sean Finnigan and Evie are housemates. They don't usually talk to each other, and when they do, it usually includes Arielle, Sean's girlfriend.
Trivia
Her patronus is a dog, while her boggart is a snake.
Evie hates being alone.
Evie is very fashionable.
She has a talent of making anything sound good.
She hates to read.
Evie is an average student.
She hates potions and loves Defense Against the Dark Arts.
Evie is a muggleborn daughter and has two other brothers.
Her brothers are 10 and 9, and their names are Callum and Tarquin.