Jasper Cauley

Jasper Cauley
Information
Full Name
Jasper Bradley Cauley
Gender
Male
Birthday
Aug. 9, 2006
Wand



14 1/2 inches
Elm (wood)
Dragon heartstring (core)

Nicknames



Jas
Perry
Bradley
Filthy halfblood
(By Scorpius)

Loyalties



Hogwarts
Gryffindor
Cauley Family

Occupation


Portrayer
Logan Lerman
Jasper Cauley is a halfblood Gryffindor first year.
Early Life
Jasper is the youngest child of the Cauley family. He has an older sister, Chantal Cauley, who is a third year, also Gryffindor. Jasper looks up to her, and is a doting brother. He was born in Liverpool, England. His mum is a wizard, unlike his dad.
Year One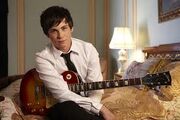 Jasper is currently in his first year of Hogwarts. He befriended Evie Alden, who he has a crush on. They are best friends. Jasper, being an attractive person, gets asked out a lot. Jasper always rejects them, mostly because he doesn't know most of them. Also, Jasper hates people who call him a bad name, like non-wizard or something like that.
Personality
Jasper is very soft-spoken and is quiet around people other than Evie. He hates to be around people and loves photography. He also plays the guitar. Jasper loves to create poems, and his favorite flower is peony. Jasper is one of those "long-lost, stereotypical" guys. He is chilvarous and likes to be a real man. He hates guys who 'sag' and are jerks to girls. However, Jasper hates girls who take advantage of guys and hurt them. Jasper is sensitive and very funny. He learns a lot from observing other people.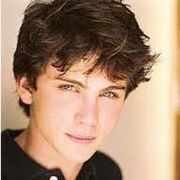 Relationships
Evie-Jasper
Evie Alden and Jasper are best friends. Jasper secretly likes Evie. He is very good at hiding this fact though.
Arielle-Jasper
Arielle Bell knows that Jasper has a crush on Evie, her dorm mate and best friend.
Ella-Jasper
Ella Brown also knows about his crush on Evie. She is Evie's dorm mate and best friend, also.
Sean-Jasper
Sean Finnigan is Jasper's dorm mate. They are best friends and Sean supports Jasper's love life.
Trivia
His patronus is a duck and his boggart are spiders
Jasper is the younger brother of Chantal Cauley

He can play the guitar
Jasper's middle name is Bradley
He hates being called a halfblood, even if he is one
Jasper feels bad when he rejects girls, but he barely knows most of them