Vignette Weasley

Vignette Weasley
Information
Full Name
Vignette Pippi Weasley
Gender
Female
Birthday
Nov. 13, 2006
Wand



13 3/4 inches
Vine (wood)
Veela hair (core)

Nicknames



Vig
Nette
Pip
Pippi
Pippa
Weasley
(By Scorpius)

Loyalties



Hogwarts
Gryffindor
Weasley Family
Delacour Family

Occupation


Portrayer
Clemence Poesy
Vignette is the youngest child of Bill and Fleur Weasley. She is a Gryffindor, first year, at Hogwarts.
Early Life
Vignette's name means "small vine", while her middle name, Pippi, means "rosy cheeked". Her older sisters are Victoire and Dominique and her older brother is Louis. She is smart, but brave also. She was a student at Beauxbaxton, but then transferred to Hogwarts, because she was a bit lonely there, with it being an all girls' school. Vignette is a big romantic, much like her mum. She closely resembles her mum, Fleur, and her sisters too. She has a little bit of ginger in her hair.
Personality
She is laid back, and very lazy. She cares a lot of her features, but she also cares about her friends too. She is the youngest, which makes her feel insecure. People have expectations for her to be unique and beautiful like her siblings, which hurts her, a little bit. Vignette is often around large groups of people, and her social skills are top notch. She, however, has stage fright and hates to embarrass herself.
Relationships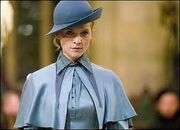 Phoenix-Vignette
Vignette and Phoenix Dullback don't interact much, considering the fact that they are in different houses. Since they are purebloods, they are both distantly related.
Ivy-Vignette
Vignette and Ivy Parkinson look much alike, but they don't act alike. Vignette hates Ivy, because she is a Slytherin and Slytherins always used to tease her father's family.
Ella-Vignette
They are not dormroom mates, but Ella Brown and Vignette are housemates. They are friends, considering that they practically live near each other.
Arielle-Vignette
Vignette and Arielle Bell are friends, and they are in the same house. They share a dormroom, and talk to each other a lot. Vignette is very supportive of Arielle and Sean's relationship together.
Sean-Vignette
They are good friends, considering that Sean Finnigan's girlfriend is Vignette's best friend and dormroom mate. They see each other every day, because Arielle's always around him.
Alison-Vignette
They hated each other the moment they met. Alison Cathleen is the best friend of Ivy, and she is a Slytherin. Also, Vignette thinks that Alison is not exactly one of the prettiest girls she's met.
Hazel-Vignette
Hazel Lupin
is an
aquiantance to Vignette. She doesn't talk to her, and doesn't really interact.
Trivia
Vignette means "small vine"
Pippi means "rosy cheeked"
Her mother is Fleur Delacour, and her father is Bill Weasley
Her patronus is a swan, for it resembles her beauty
Her boggart is never being loved
Her wand core is veela hair
She is a quarter veela
Is currently a first year, Gryffindor, at Hogwarts
Used to be in Beauxbaxton
Is a romantic